Strawberry Shortcake: Musical Match-Ups
Overview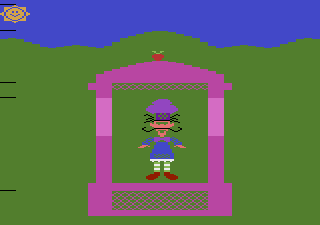 Strawberry Shortcake Musical Match-Ups is a puzzle game designed for children ages 4 - 7 released by Parker Brothers in 1983. The object of the game is to straighten out mixed up Strawberryland characters within the given time limit.
The game begins by presenting players with a character shown in a gazebo where the head, body, and legs are a mixed-up combination of different Strawberryland characters. Players can change each of these parts until a single character is created; once the correct character is formed, the character's musical theme is heard and a dance is performed as a reward. If players accidentally form an unmatched character, the musical theme played will be a mixture from the characters used. Several game options are included which affect the level of difficulty; this allows players to alter the time limit and which characters may need to be created. In the easier settings, the character you must create will be indicated by text at the bottom of the screen. In the more difficult settings, a theme songs is played and players need to assemble the matching character.
Marketing
Product catalogs, magazines, flyers, or other documentation
Strawberry Shortcake: Musical Match-Ups
has appeared in.
*Note: If you are unable to see any images in this section, you may have an ad blocker installed that is blocking the thumbnails and/or images.