Welcome to the world of PixelatedArcade
A museum of vintage video games featuring photos, information, screenshots, artwork, and more.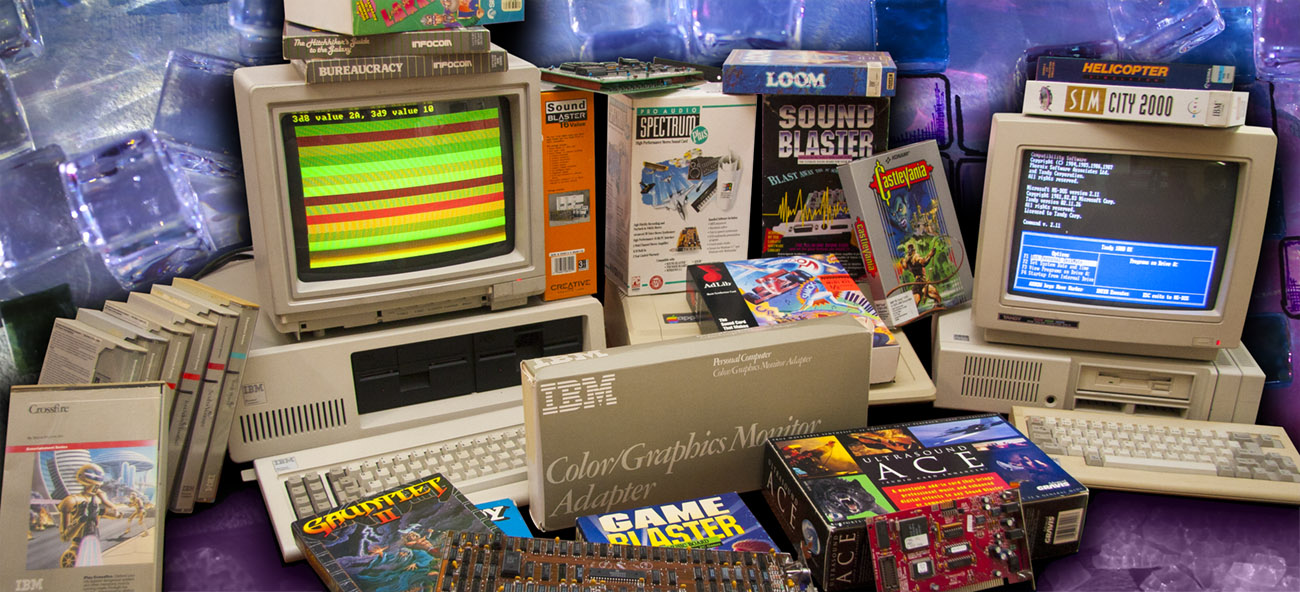 PixelatedArcade Site News
2023-11-02
The IBM PCjr 40th Anniversary IBM Announces the PCjr on November 1, 1983
Fourty years ago on November 1, 1983 IBM officially announced it's latest home computer, code name Peanut and officially known as the IBM PCjr. Where the IBM PC was clearly aimed at business users, the PCjr was intended to be a more attractive option for the home and was to compete with the likes of Apple, Commodore, and more in an ever expanding home computer market. Outfitted with a smaller case, new 16 color graphics and 3-voice sound that were great for games, two cartridge slots, a lower price compared to the PC, and yet still compatible with the PC the IBM PCjr should have taken the market by storm and was widely predicted to do so. Unfortunately for IBM, that's not what actually happened and the quirky little system is often considered one of the biggest flops in computer history. Despite many great ideas, the PCjr had a lot of minor issues that all added up to make it a rather unpopular system. If you'd like to learn more of the history and why this is the case, I recommend you check out the first part of a series Trixter uploaded to his YouTube channel The Oldskool PC: The IBM PCjr, Part 1: The road to hell is paved with good intentions (be sure to follow the channel or check back later, there's more videos on the PCjr to follow)....
2023-08-13
Scheduled Maintenance 2023 Site Infrastructure Updates
Just a quick update this month; our hosting provider will be performing some system maintenance and upgrades on August 15, 2023. Assuming all goes well, this should be pretty seamless and involve very little if any downtime. Of course, there is always the possibility of something unexpected popping up as has happened in the past, but hopefully not this time. We also found our email address info@pixelatedarcade.com isn't working correctly at the moment and we are working on restoring that.
2023-06-17
The Best and Worst of Arcade Cabinets 18 Designs That Either Wow or Fail to Impress
Happy pride month! It's been a while since an update has been posted, so I put together some photos to browse through. Inevitably, the "best of" and "worst of" lists will appear; doesn't matter too much what you're talking about, nearly anything that's popular and been around a while will have good and bad examples of the product and someone will rank and stack a few of them into some sort of order that's hardly scientific and reflects not much more than the personal taste(s) of whomever assembled said list. Well, I can hardly resist this temptation myself and now present to you some of the best and worst arcade cabinet designs! This list reflects just my personal preferences; it's not based on any research or polls to represent the gaming community at large, and as such I'm sure some readers will disagree with my selections. It's also incomplete; with so many games out there, narrowing down to just a handful is tough! There's some really great (and bad!) cabinets out there which I had to leave out just to prevent this article from rambling on forever. That said, I like pointing out some of the cabinets out there just in case there's some you haven't seen before...especially on the good list, there's some fantastic artwork and design that went into presenting arcade games that's worth checking out. A great cabinet couldn't make a bad game good, of course, and if a cabinet was so poorly designed that it hindered gameplay in some way that could be a problem. But it's still nice to take a look at the artwork and creativity some designers had and if a game was already good a fantastic cabinet certainly helped make the game just a little bit better of an experience. So without further delay, let's take a look at our entries...