Strange Odyssey
Platforms:
Acorn Electron,
Apple II,
Atari 8-bit,
BBC Micro,
Commodore 16 & Plus/4,
Dragon 32/64,
Exidy Sorcerer,
PC-8800 Series,
PC-9800 Series,
TI-99/4A,
TRS-80,
TRS-80 Color Computer
Overview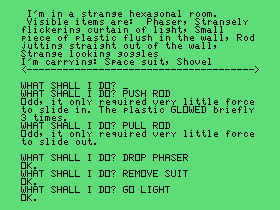 TI-99/4A version of Strange Odyssey
Strange Odyssey is an adventure game designed by Scott Adams and originally released in 1979. There are versions for numerous computer systems including the TRS-80, TI-99/4A, Commodore 64, Apple II, Atari Home Computers, and many more. It is Adventure #5 in the Scott Adams Adventure series and features a similar interface and text parser as other games in the series.
Gameplay
In Strange Odyssey, players find themselves marooned at the edge of the galaxy and stumble upon the ruins of an ancient alien civilization. The goal of the game is to locate five alien treasures that are hidden throughout the area and return with them safely.
Like other Scott Adams adventures, Strange Odyssey features a simple text parser to interact with the game. The game uses a split screen; the top provides a brief description of the current location or situation along with notable items that are visible while the bottom of the screen allows players to enter two word commands consisting of a verb and noun (such as READ SIGN).
Related Games