Nerm of Bemer
Platforms:
Atari 8-bit,
Commodore 64,
Commodore VIC-20,
IBM PC/Compatibles,
TI-99/4A
Also Known As
Worm of Bemer - COMPUTE! article title
Overview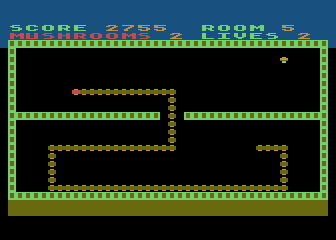 Nerm of Bemer for Atari Computers
Nerm of Bemer is a Snake/Light Cycles style game appearing in the April 1984 issue of COMPUTE! magazine. Players control Nerm the Worm who is trapped in Bemer Castle; the goal is to guide Nerm out of the castle through eleven different rooms of increasing complexity.
The worm is moving constantly forward; if it crashes into either a wall or itself, a life is lost. In each room, mushrooms will appear at a random location one at a time. When the worm eats a mushroom, it will grow in length. Once five mushrooms are eaten, the exits to the next room appear on the outer walls allowing the worm to escape. Bonus worms can be earned for completing rooms, and once the game is over a ranking is provided based on how far through the castle players made it.
Credits