Mean 18
Platforms:
Amiga,
Apple IIgs,
Atari 7800,
Atari ST,
IBM PC/Compatibles,
Macintosh
Also Known As
Mean 18 Ultimate Golf - Atari 7800 title
Overview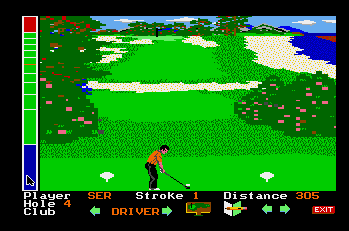 Apple IIgs version of Mean 18
Mean 18
is a golf simulation first released by
Accolade
in 1986 for IBM PC computers. Versions were later released for the Amiga, Apple IIgs, Atari 7800, Atari ST, and Macintosh. The game included four courses to play and also had an editor for players to create their own courses (and is one of the first golf games to do so).
Gameplay
Mean 18
simulates an 18 hole round of golf with a 3D view of the hole from behind the player for each shot. To hit the ball, the game uses a 3 click system that would become popular and was used by numerous golf games for years: the first click starts the backswing, the second click indicates how much power the shot will have, and the final click indicates the accuracy (an inaccurate click and the ball will either fade or draw). Both a beginner and expert skill level are included; with the expert level, the draw and fade of the ball is more dramatic making an accurate third click more crucial. Players also have the option to play from regular or pro tees. A driving range and practice green were available to allow players to practice without playing a full round of golf.
Four different famous courses were included with the game, one on the game disk and included three additional as part of
Mean 18 Famous Course Disk Volume I
. The courses are:
Bush Hill
St. Andrews, Scotland
Pebble Beach, California
Augusta National, Georgia
Additional courses
could also be purchased. Due to limitations of the system, the Atari 7800 version of the game only included one course (Pebble Beach).
Marketing
Product catalogs, magazines, flyers, or other documentation
Mean 18
has appeared in.
*Note: If you are unable to see any images in this section, you may have an ad blocker installed that is blocking the thumbnails and/or images.