Grandma's House
Platforms:
Apple II,
Atari 8-bit,
Commodore 64
Overview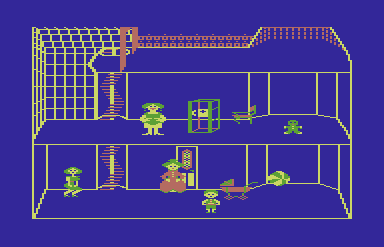 Commodore 64 version of Grandma's House
Grandma's House is an educational game published by Spinnaker Software in 1984 for the Apple II, Atari 8-bit, and Commodore 64 computers. The game doesn't have any specific goals or puzzles, and is instead a sort of digital version of a doll house which allows players to locate items and set up the virtual house however they like.
Gameplay
The game begins with players selecting two characters from the many available; once selections are made, grandma's house appears and is initially empty except for grandma. Players can now visit faraway places; by selecting one of their two characters and leaving the screen, a group of doors is shown which lead to a new location. The faraway places all have different scenery and are all filled with numerous items; players can pick up most of the items found and bring them back to the house to place where ever they want. As many or as few objects can be placed into the house as desired, and objects can be moved around even after they are placed. It's also possible to receive special treats from grandma after returning from faraway places. The game has no time limit or specific goals that need to be accomplished.
Marketing
Product catalogs, magazines, flyers, or other documentation
Grandma's House
has appeared in.
*Note: If you are unable to see any images in this section, you may have an ad blocker installed that is blocking the thumbnails and/or images.