Beehive
Platforms:
Amiga,
Apple II,
Atari 8-bit,
Commodore 64,
IBM PC/Compatibles
Overview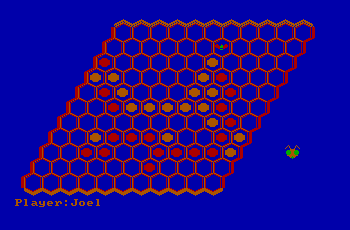 IBM PC version of Beehive
Beehive is a turn-based strategy game for two players. The game takes place on a board consisting of 121 hexagons arranged in a 11x11 grid resembling a honeycomb. The goal is to connect a complete line from one side of the grid to the other; one player needs to connect the top and bottom while the other player attempts to connect the left and right sides. Players take turns and select one cell at a time to fill in with their color. Each player will need to devise a strategy for connecting the borders and blocking their opponent; when a complete path (which doesn't need to be straight) is finished, that player wins!
The program's BASIC code was originally published in the September 1986 issue of COMPUTE! magazine with listings included for multiple platforms. The Amiga version of the game also utilized the AmigaBASIC feature for synthesized speech.
Credits